From Ft. Meyers News-Press
The Villages, a vast, upscale planned community north of Orlando, has about 70,000 mostly adult residents — many of them military retirees — who vote reliably Republican in statewide races. Tens of thousands inched along roads into the picturesque town square of the complex, where they stood in sweltering heat for about four hours as local GOP officials and a country band revved up the crowd.

"Sa-Rah! Sa-Rah!" they chanted at every mention of her name, applauding loudly and waiving tiny American flags that were distributed — along with free water bottles — by local volunteers. The fire chief estimated the crowd at 60,000.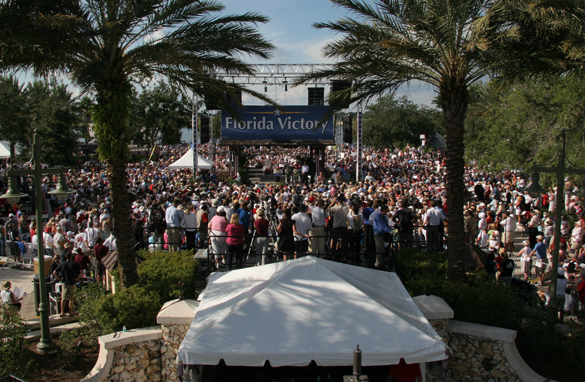 Image Courtesy of CNN
Filed under: Sarah Palin | Tagged: 60000, crowd, massive, palin | 6 Comments »